Train the Trainer Program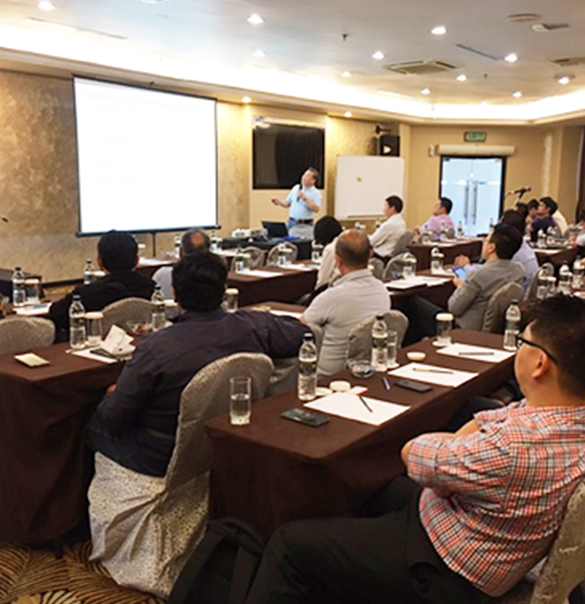 Description & Details
BASAM (Malaysia Building Automation System Association) is organizing the Train-theTrainer programme for BASAM appointed members. The knowledgeable and interactive workshop is designed for trainers to operate independently and interdependently to conduct leaming that enables people in the building industry to grow and develop.
Course Objectives
The TTT programme is designed to train participants to be qualified professional trainers.
By the end of the programme, participants should be able to:
Discuss the characteristics of a competent trainer

Explain hvac system principles and identify system weakness if any

Conduct training needs analysis

Design training programmes using appropriate training methods, materials, and visual aids

Develop facilitation skills and deliver training professionally

Deliver a standardize training method and programme based on BASAM standard
Topics
Training Needs Analysis and Writing Outcomes
Planning and Designing Contents and Outcomes
Writing Instructional Plan
Designing and Developing Active-Training Methods
Preparing Visual Aids
Starting, Moving; Adapting; and Ending a Training Programme
Working with Questions: Motivating; Managing Participant's interest
Presenting, Facilitating, Leading
Evaluating Training
Practical - Delivering Real Time Training Sessions
Methodology
This is a highly interactive, participative and experiential programme which will be conducted through lecture, discussions, presentation and assignments.

Assessment
Discussion 5 Points
Participation 15 Points
Presentation 20 Points
Assignment 40 Points
Practical 20 Points
Ordinary Corporate/Individual Members - Open to all contractors, manufacturers and suppliers in the BAS industry who is Malaysian citizen and above the age of 18 years is eligible for membership of BASAM.
Life Members - Any existing Ordinary Individual Member or Ordinary Corporate Member, after being a member for a period of one (1) year can apply to be an Individual or Corporate Life Member of BASAM. Every Application together with the payment of the prescribed fee shall be forwarded to the Secretary who shall, at the first convenient of opportunity, submit to the Executive Committee for approval. The Executive Committee may at its discretion accept or reject any application without assigning any reason thereof.
Associate Members - Open to Architects, Consultants, Insurance Companies, fire Brigade and all those directly interested in the BAS industry.
Membership rights and privileges shall not be transferable including the right of the vote.
Entrance Fee
1. Ordinary Corporate Member - Rm 300
2. Ordinary Individual Member - Rm 200
3. Associates Member - Rm 100
Annual Subscription
1. Ordinary Corporate Member - Rm 300
2. Ordinary Individual Member - Rm 200
3. Associates Member - Rm 100
Life Membership + Payment (Banking Details) Life Membership Prescribe Fee
1. Ordinary Individual Life Member RM 1000 (upon approval for Ordinary Individual Life Membership)
2. Ordinary Corporate Life Member RM 1500 (upon approval for Ordinary Corporate Life Member)
Payment
All cheques should be crossed and made payable to:
Malaysia Building Automation System Association

RHB Bank Berhad
Account Number: 2-12349-0005189-3